Melanjutkan artikel instalasi jenkins pada centos 7 kemarin, artikel kali ini adalah contoh untuk menambahkan satu job pada jenkins untuk compile project yang ada pada github.
Hal pertama yang harus dilakukan adalah mempersiapkan repository pada github dan melakukan setting ssh-key akses ke github. Pada artikel ini, repository sudah disiapkan di sini.
Hal yang perlu dilakukan pada server jenkins adalah mempersiapkan ssh key yang digunakan untuk melakukan pull dari github ke server jenkins. Perlu diketahui, pada centos 7, secara default jenkins berjalan dengan nama user jenkins. Untuk itu, ssh key perlu kita setup untuk user jenkins.
Login ke server jenkins dan buat ssh key
ssh-keygen
[root@test ~]# ssh-keygen 
Generating public/private rsa key pair.
Enter file in which to save the key (/root/.ssh/id_rsa): 
Enter passphrase (empty for no passphrase): 
Enter same passphrase again: 
Your identification has been saved in /root/.ssh/id_rsa.
Your public key has been saved in /root/.ssh/id_rsa.pub.
The key fingerprint is:
72:65:5d:73:f5:6c:cf:6f:a3:b3:6f:31:db:2c:76:f4 root@hostname
The key's randomart image is:
+--[ RSA 2048]----+
|                 |
|           .   o |
|          o . + .|
|         o   . o.|
|      . S       +|
|       o    o .o.|
|          .  B .o|
|           o= *.E|
|          .+o=.. |
+-----------------+
Coba login ke github menggunakan ssh untuk mendapatkan authorized key github
ssh git@github.com
The authenticity of host 'github.com (192.30.253.113)' can't be established.
RSA key fingerprint is 16:27:ac:a5:76:28:2d:36:63:1b:56:4d:eb:df:a6:48.
Are you sure you want to continue connecting (yes/no)? yes
Pindahkan semua isi folder .ssh dari /root ke folder .ssh milik jenkins
mv ~/.ssh/* /var/lib/jenkins/.ssh/
chown jenkins:jenkins /var/lib/jenkins/.ssh/
Login kembali ke jenkins dan klik "create new jobs" atau "New Item"
Beri nama item dengan Helloworld, dan pilih freestyle project, dan klik ok.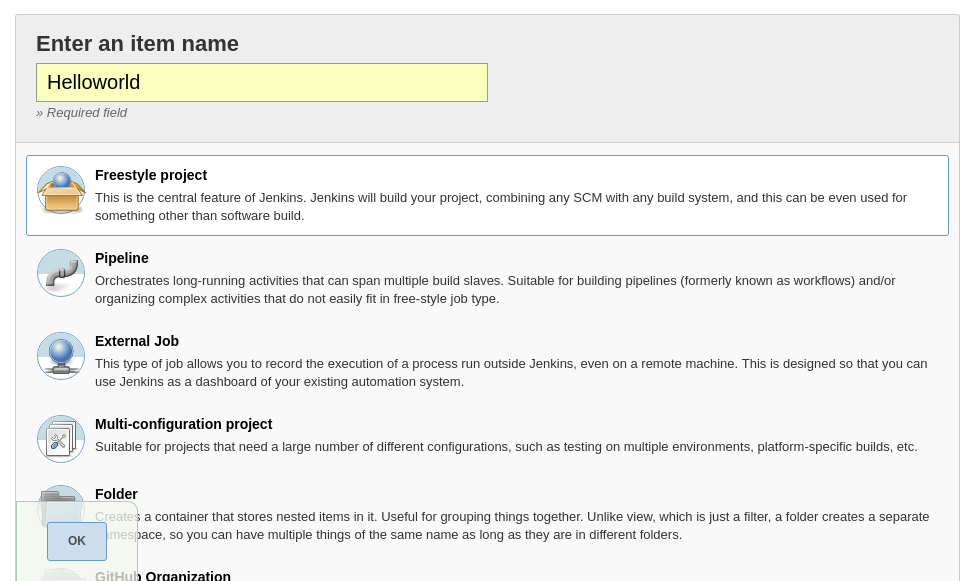 Pada repository github kita, pastikan alamatnya memiliki format git@github.com seperti gambar di bawah ini. Jika belum, klik lebih dulu Use SSH yang berada tepat pada tulisan use https di bawah ini.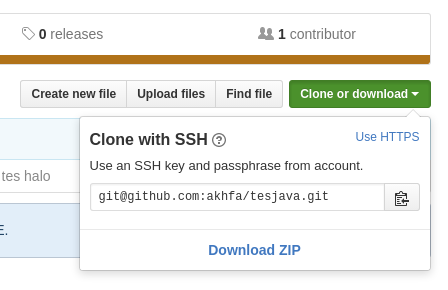 Pada bagian Source Code Management, pilih Git, dan masukkan alamat repository gitnya. Jika masih ada pesan eror berwarna merah, maka hak akses ke github menggunakan ssh_key perlu dibetulkan. Gambar di bawah ini adalah contoh yang benar ketika kita memasukkan alamat repository github ke jenkins.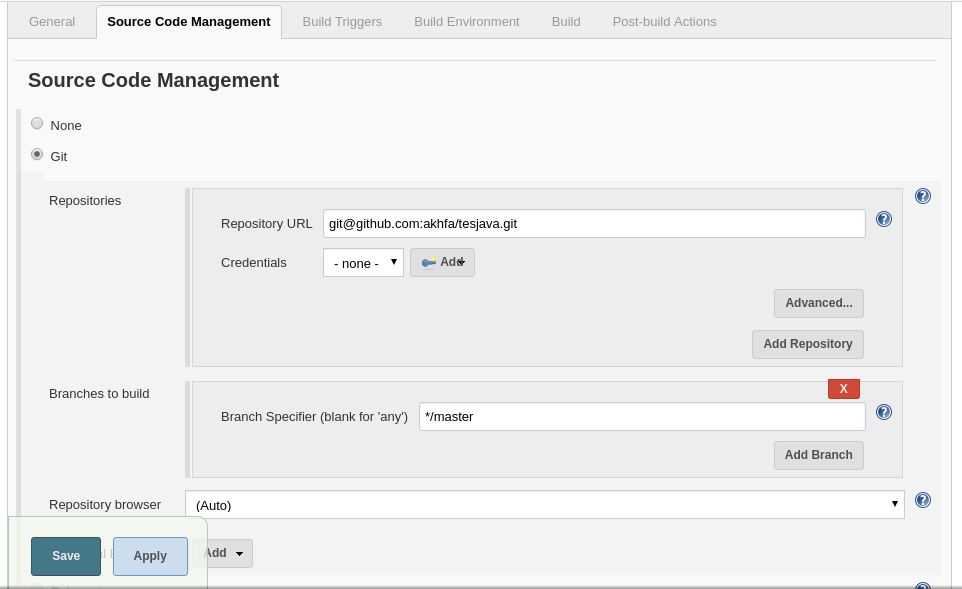 Pada bagian Build, klik Add build step, dan klik Execute shell.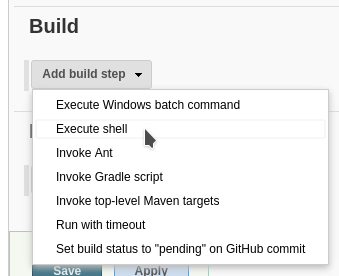 Masukkan string berikut
javac HelloWorld.java
java HelloWorld
sehingga bagian Build menjadi seperti berikut

Klik save sehingga muncul tampilan berikut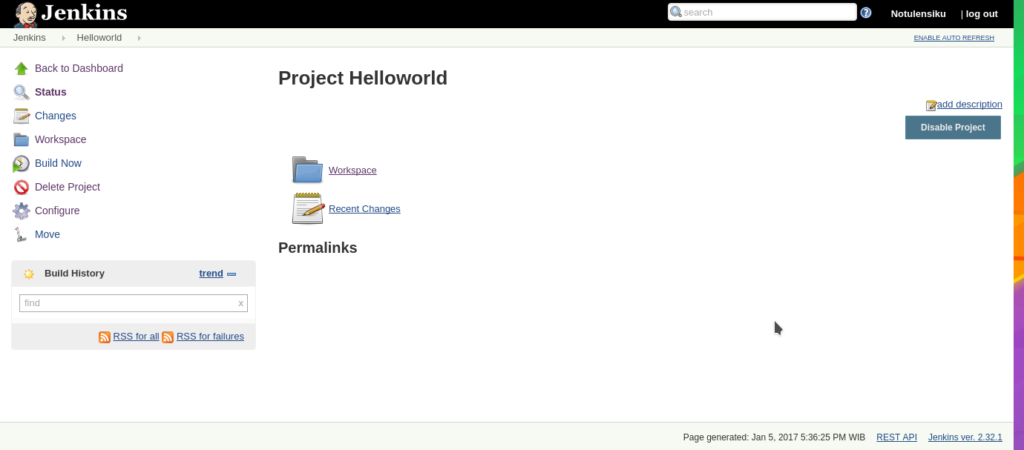 Ketika kita klik Build Now, maka pada box Build History akan terlihat history build yang telah kita lakukan. Berikut ini tampilan 2x build history.